Booking Your Psychic Reading Online
Use our booking system to select a Psychic, Reading and Time convenient for you. Our accurate Live Readings are conducted by Phone, and include a Free MP3 recording so you don't have to worry about taking notes. For all bookings, clients submit their questions before the reading; this allows us to compose the email reading OR for live readings meditate on questions beforehand.
Meditation on the nature of the question allows for a fuller understanding of the entire picture, and the accurate results that our loyal clients have come to expect from our services. This also translates into more value for our clients – gathering initial impressions to validate a connection has already been established from the start. There's no waiting, and we can dive right into the reading, then use any remaining time on other questions you may have.

Money Back Satisfaction Guarantee!
Psychic Readings Risk Free
If for any reason your reading does not resonate with you or your situation, ATR will promptly send a full refund so that you may consult another reader at no additional expense. We put your needs first, and we want you to find resolution first and foremost! Our satisfaction guarantee means that you can try out our psychic reading services risk free to confirm that we connect well with you. If we don't – consult another psychic on us.
Affordable Rates Year Round
Our services offer resolution for less! We put your needs first, and that means making our services as affordable and accessible to all as possible. Psychic Reading investment ranges from $10 – $49 at booking.
Sample Email Reading
New Client Discount
Redeem
Full Phone Reading
20 - 30 Minutes
Book Now
Across The Realms Offers More Than Just Psychic Readings…
Pick A Card - Free Online Tarot Card Reading
Focus on the cards below than, click on the one you feel most drawn and receive a message from Holly Joy or Syd Sky.
Focus On More Cards
Distant Reiki Healing & Free Prayer Request
Syd Sky is a Reiki Master and Teacher in the Usui Tibetan Method of Healing and a Certified Animal Reiki Practitioner. Through her skill and study, she is able to clear the negative energies that you or your pet are holding from past experiences. This latent negative energy drains us, and it can have an ongoing negative effect the body physically and psychologically. She starts every day by sending string reiki to those on her healing & prayer list. With a long list of thrilled clients, the results speak for themselves; click below to be added her Healing & Prayer list.
Receive Healing
Psychic Home Study eCourses
Holly Joy & Syd Sky have written three comprehensive Psychic Home Study eCourses for beginners to learn how to connect with the higher self though meditation. For more advanced intermediate learners, our classes cover how to tap into harnessing their psychic abilities through focusing and study. For our advanced and dedicated readers, we also offer a how-to guide that covers every aspect of building their own business online as a lightworker and a high earner who can genuinely feel good about helping their clients.
Study Across The Realms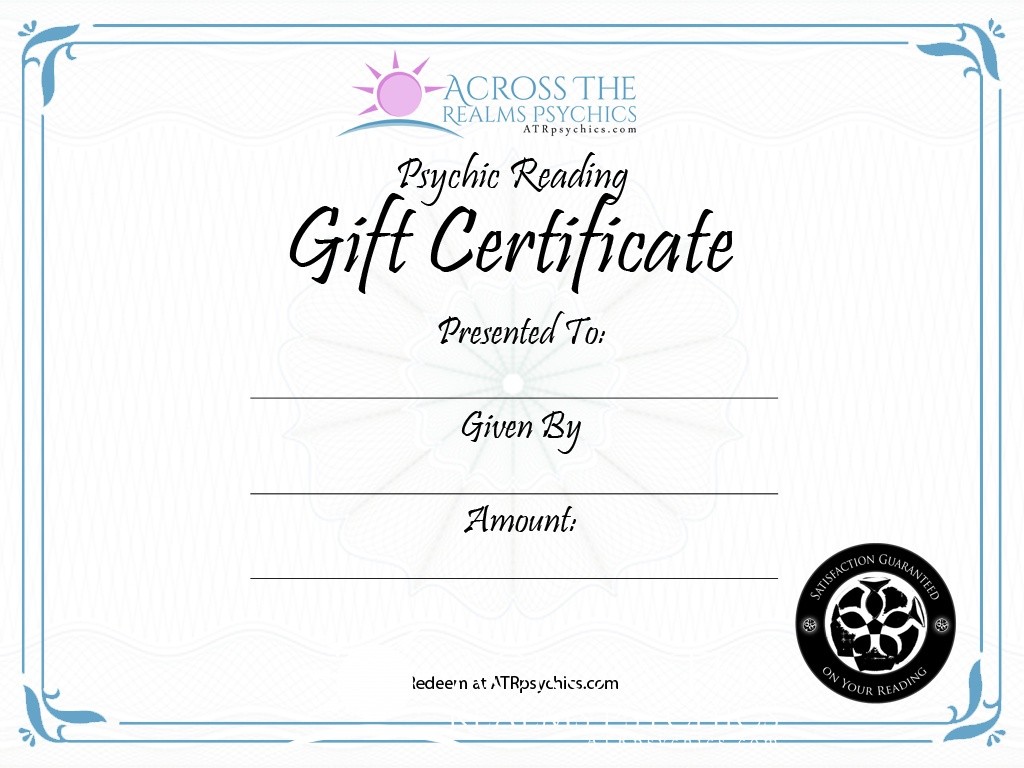 Give A Gift Of Love They'll Remember
If you're already a client, you know what a positive experience an insightful and connected Psychic Reading can be.
Add some illumination into the life of a loved one or someone you know who could use some insight in their lives. Whether you enjoy our Psychic Readings or know someone that would benefit from our expert services, an Across The Realms Psychic Reading gift certificate is an exciting gifting idea for any occasion.. Use our convenient gift certificates to provide a memorable experience for someone special and give the gift of insight. Perfect for an unforgettable birthday, a fresh start to a brand New Year, a fun gift for a Valentine. Best of all, our gift certificates make a wonderful and unique surprise for that special moment of just-because-gifting. Tell them you care and give the gift of healing, peace, and insight – buy an Across The Realms gift certificate today!
Clients should understand that certain variables and freewill can always alter an expected outcome.